Regular price
Sale price
$23.00 USD
Unit price
per
Sale
Sold out
A RABBIT'S FOOT is the only classic, independent film, art and culture journal on the English-language market. Printing 19th May and circulating 20th May, with an activation and event at the Cannes Film Festival, the quarterly journal's fourth issue "Love & Passion" features exclusive interviews and profiles from the following artists: 
Gaspar Noé in conversation with Chris Cotonou — cult arthouse filmmaker and provocateur, this exclusive interview held at the peak of the 2030 Parisian riots discusses Noé's varied film career, his near-death experience after his "party animal" lifestyle and "the real mystery about life before death." 
Kim Krizan in her own words — the writer for the Oscar-nominated Before Sunrise writes a personal essay on the "fragile and powerful" experience that led to her movie's creative genesis.
Marion Cotillard profiled by Richard Gionorio — we profile the famed French actresses (best known as Inception's iconicfemme fatale) on her multifaceted life, her star power and her role as one of the last great French muses.
Sir Rogers Deakins in conversation with Chris Cotonou — the iconic cinematographer discusses the romantic photographic odyssey of trying to "capture perfection".
Isabel Sandoval profiled by Luke Georgiades — trans director of Lingua Franca opens up about her filmmaking experience and her view that she could've become "a nun living a double-life" were it not for movies. 
Sam Taylor-Johnson in conversation with Charles Finch — award-winning filmmaker and photographer candidly explores the torturous experience making 50 Shades of Grey. 
Alex Cox — in a rare public interview, we sit down with the reclusive punk filmmaker and critical darling to discuss his life, his love story Sid and Nancy and Fear and Loathing in Las Vegas. 
Anthony Gormley in conversation with Chris Cotonou — the world-renowned artist behind the Angel in the North discusses sculpture, spirituality and his upcoming, previously unannounced, utopian project. 
Nick Broomfield in conversation with Charles Finch — the BAFTA winning documentarian opens up about the value of documentaries to preserve truth, his many loves, and his time with serial killer Aileen Wuornos. 
Ava Duvernay — BAFTA and Emmy Award winning director talks agape, selflessness and Selma. 
Sitting between these features, are long-form articles from A RABBIT'S FOOT in-house writers on love and passion across world cinema and the arts, essays by acclaimed journalists Peter Bradshaw, Jason Solomons, and Natasha Fraser, alongside exclusive photography from Jacques Henri-Lartigueand Bressaï. Building on our Armani-sponsored Power of Film event with Finch + Partners, we'll be activating Issue 4 in 2023 Cannes festival. Working in tandem with print, A RABBIT'S FOOT is accompanied by its own daily updated digital website and social media platform. 
Unlike mainstream film magazines, which are defined by a cyclical nature, the stories in A RABBIT'S FOOT are timeless. Each issue is designed as a collector's item for readers interested in a cerebral companion to the world of film and art.
Share
View full details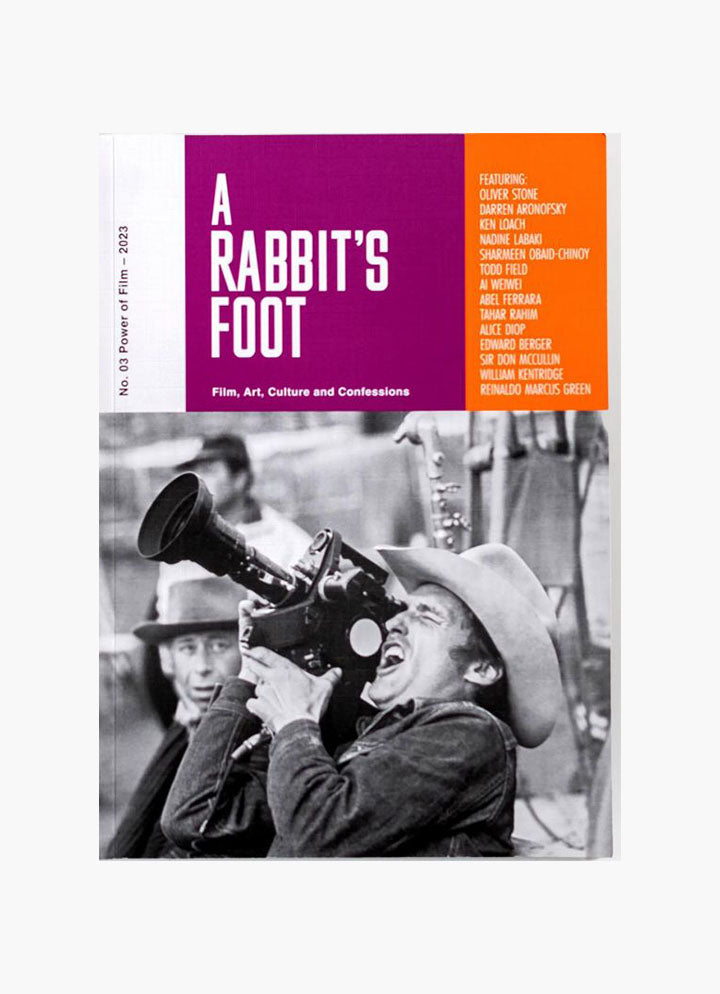 Shipping

We ship all orders over $50 for free via Canada Post Expedited. Shipping is $11.95 for orders under $50.

Returns

If you'd like to return your magazine, please email arman@disko.ca.

Where are we?

Disko is in Cambridge, Ontario. It's about an hour west of Toronto. We're specifically located in the Galt area, which is a beautiful old downtown with nice shops. It's worth the drive.