Regular price
Sale price
$25.00 USD
Unit price
per
Sale
Sold out
LUNCHEON is an independent cultural magazine mixing art, fashion and food. Free spirited in its content this biannual magazine offers readers a generous feast for the eyes and the mind. The essence of conversations over lunch is at its core and each issue is constructed as if a menu. Over the lunch table, the magazine brings together different generations who share opinions, stories and memories, offering us an insight into their unique cultural contributions.  - Luncheon
Issue 14: Autumn-Winter 2022-23 Table of Contents:
Cigarette breaks by Cary Kwok, Michael Lindsay-Hogg, Rottingdean Bazaar, Alfie Benge and Robert Wyatt for the Luncheon menu pages running through the magazine. 
An Ode to Issey Miyake, scent bottle photographed by Irving Penn in 1992 and Joan Armatrading photographed by Snowdon in 1986
Chips, Cheese and Curry Sauce by Josefine Skomars and Lars Brønseth
Seven Works by artist Pablo Bronstein
Architect Sumayya Vally and fashion designer Roksanda Ilinčić conversation, photographs by Chieska Fortune Smith
Body and Soul photographs by Ekua King, styling by Hanna Kelifa, text and poem by Caro Ohemaa
The Work of Pat Porter, introduced by Charlie Porter, photographs by Kuba Ryniewicz, words by Olivia Laing
Eau de Cologne by Michael Bracewell, with Monika Sprüth and Rosemarie Trockel
A Poetic Conversation between Mustafa the Poet and Adrian Joffe
Inspirations by artist Tai Shani
Fawley Bottom: John and Myfanwy Piper by Tom Hanbury
A Murder of Mermaids, photographs by Tim Gutt, styling by Léopold Duchemin
Body morphing and clothing by Michaela Stark, photographs by Jack Davison
La Sarabande with the Ballet national de Marseille (La) Horde, photographs by Louie Banks, styling by Ally Macrae
The Chromatic Diet, photographs by Deo Suveera and Pamela Dimitrov, creative direction Benjamin Grillon and words by Rosanna McLaughlin
"A Load of Shit" by John Berger
Crossword by Tom Hanbury
300 pgs, 33.5 × 23.5 cm, Softcover, 2022,
Share
View full details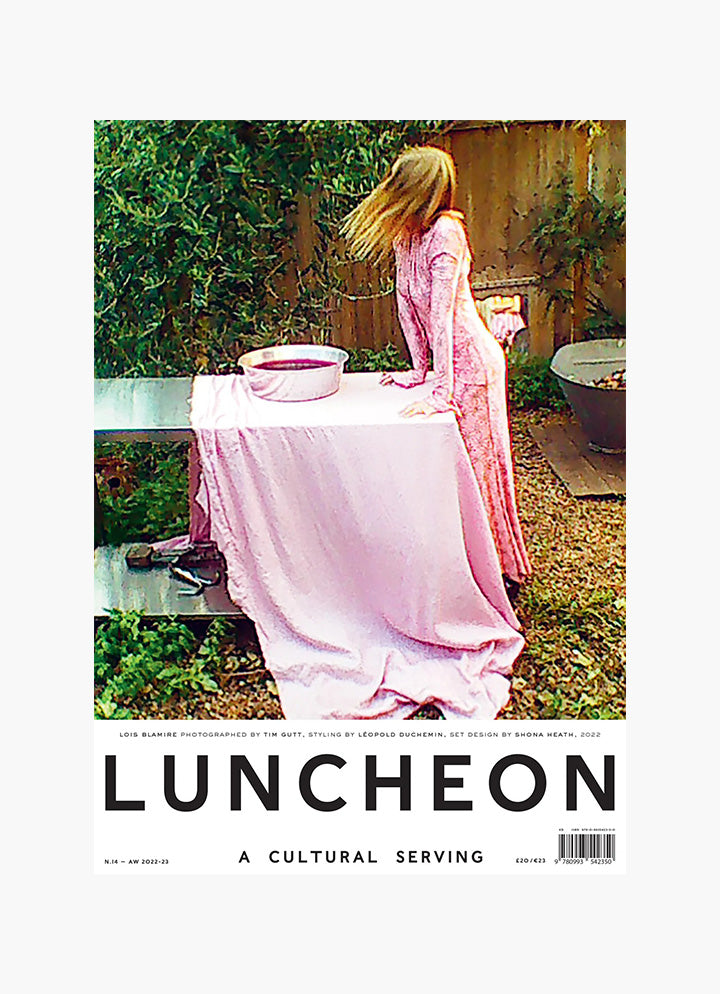 Shipping

We ship all orders over $50 for free via Canada Post Expedited. Shipping is $11.95 for orders under $50.

Returns

If you'd like to return your magazine, please email arman@disko.ca.

Where are we?

Disko is in Cambridge, Ontario. It's about an hour west of Toronto. We're specifically located in the Galt area, which is a beautiful old downtown with nice shops. It's worth the drive.